Unfortunately, a computer network is not something that can simply be installed and then forgotten about.
Just as a regularly serviced car will return a greater level of reliability and lower running costs to its owner, a computer network that is well maintained, regularly monitored and serviced, will do the same.
Frequently businesses, particularly those with no on-site IT expertise, make an initial, often significant, investment in an IT solution and realise immediate productivity gains,­ assuming the solution was done right.
As time goes on, performance begins to suffer and the  business' once-reliable system starts to become unreliable, and the cycle repeats. This all too common approach invariably results in a significantly higher total cost of ownership and reduced productivity for the business.
In addition to prolonging the life of your IT investment, regular monitoring and maintenance will also identify and prevent potential problems evolving into real problems, disrupting your business. For example, identifying storage issues before your key business applications grind to a halt due to lack of storage space.
Introducing IronClad-1
Recognising that for many businesses, managing their IT environment effectively is often a challenge and seldom a priority, Big Iron have created a comprehensive IT Management and Service Level Agreement called IronClad-1.
IronClad-1 is specifically tailored to small to medium-sized New Zealand businesses that need dependable IT systems without having to rely on in-house expertise. It provides a cost-effective, quality solution that offers you peace of mind, giving you the freedom to concentrate on running your business without having to worry about managing and supporting your IT systems.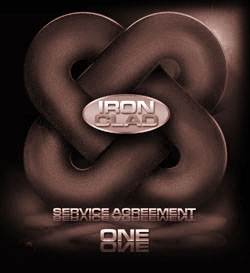 Benefits
Significantly discounted labour rates
Special pricing on products
Priority response to support requests with guaranteed response times
Management of IT, telco, system providers, etc.
Network diagram maintenance
Asset register management
Software licence management
With an IronClad-1 Service Level Agreement in place, Big Iron will become your IT department – providing quality advice, support and direction to ensure your IT environment is always able to support your business effectively and efficiently.
A service level agreement provides your business the assurance of knowing that your IT Systems will be well looked after, your changing IT needs catered for, and that competent support will always be available to call on when needed.
For more information call us today on (09) 951-0555