Secure mobile access
Give users simple policy-enforced access to corporate resources
Provide secure access to mission-critical apps and data for a wide range of smartphone, tablet, laptop and desktop devices.
Whether the device is managed or unmanaged, a security policy can be created and enforced to allow mobile and remote employees, partners and contractors to access only the data they're allowed and only from trusted devices.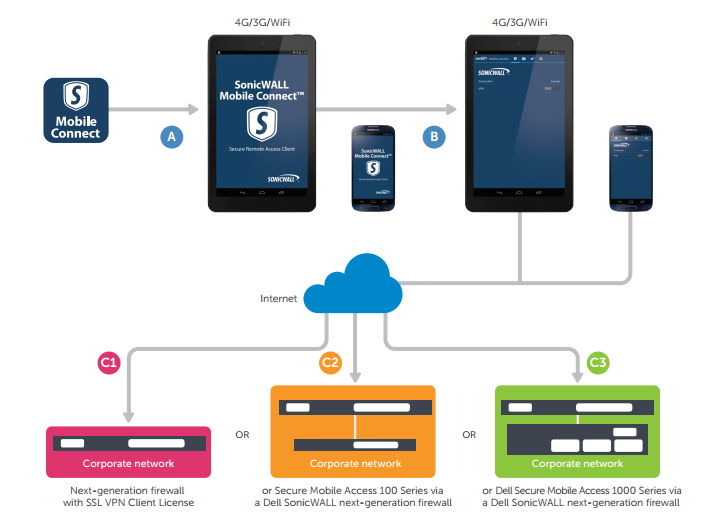 Features
Mobile Connect
Mobile Connect provides smartphone, tablet and laptop users with simple, policy-enforced, network-level access to corporate and academic resources over encrypted SSL VPN connections.
Intuitive, easy-to-use app
Available on Apple® iOS, Mac OSX, Windows, Kindle Fire, Google® Android™ and Chrome mobile devices
Embedded with Windows 8.1 devices
Centralised management and reporting
Dell SonicWALL enables users to centrally create and manage remote access policies in order to achieve real-time monitoring, log and analyse access activity and deliver intuitive reports.
Centralised security and network management
Easy firewall policy management
Universal dashboard
Real-time alerts
Connect Client
With Connect Client, IT-managed and unmanaged PCs and laptops can securely access key business applications and enjoy an "in-office" experience via the Dell SonicWALL WorkPlace portal.
Easy administration with robust control
Secure access to VoIP and remote help desk
Tunnel agent web policy and SSO configuration
Application-to-application Connect Service Edition
Clientless connectivity
Because there is no pre-installation or pre-configuration required, authorised remote workers can sit down at any computer with internet access to securely plug into your network.
Zero client installation
Connect from any computer with Internet access
Virtual desktop infrastructure
Endpoint control
Establish security policies that continually detect the identity and security state of end devices.
Interrogate mobile devices for jailbreak or root status, device ID, certificate status and OS version
Interrogate Windows, Mac OS and Linux laptops and desktops for the presence or absence of security software, client certificates, and device ID
Allow only trusted devices to access network resources
Access control
Provides transparent, dynamic deployment of appropriate access methods that are based on user authentication, endpoint security or zone classification and resource.
VPN access restricted to IT-authorised mobile apps
Mobile app, thin client and browser-based access options
Network-level access to more resources including web, client/server, hosted virtual desktop and back-connect such as VoIP
Secure Virtual Assist
Secure Virtual Assist allows a technician to assume control of a customer's PC or laptop to provide assistance, while remote professionals can also connect to their PC to stay productive.
Anywhere, anytime support
Interactive communication tools
Easy management of remote support
256-Bit AES SSL encryption
One-time passwords
A unique one-time password can be generated for every log in and combined with the username and standard network password for enhanced log on protection.
Tokenless solution
SSL VPN standard feature set
Dell Quest Defender
For more information call us today on (09) 951-0555