Block malware, prevent intrusions and control applications, for your entire network traffic, with our industry-leading firewall solutions.
Big Iron provides Dell SonicWALL solutions, one of the leading providers of next-generation firewalls (NGFWs).
The proven SonicOS firmware is at the core of every Dell SonicWALL NGFW. SonicOS leverages scalable, multi-core hardware architecture and single-pass, low latency. The Reassembly-Free Deep Packet Inspection® (RFDPI) engine scans all traffic regardless of port or protocol. SonicWALL NGFWs ensure that every byte of every packet is inspected while maintaining the high performance and low latency that busy networks require. Unlike other firewalls, the SonicWALL single-pass RFDPI engine enables simultaneous, multi-threat and application scanning, as well as analysis of any size file, without packet reassembly. This enables Dell SonicWALL NGFWs to massively scale to extend state-of-the-art security to growing and distributed enterprise networks.
Dell SonicWALL firewalls offer a range of robust capabilities, including:
Website/URL filtering (content filtering)
Deep packet inspection of SSL encrypted sessions (DPI-SSL)
Virtual private networking (VPN)Â over SSL or IPSec
Application intelligence, control and real-time visualisation
Stateful failover/failback
Intrusion prevention service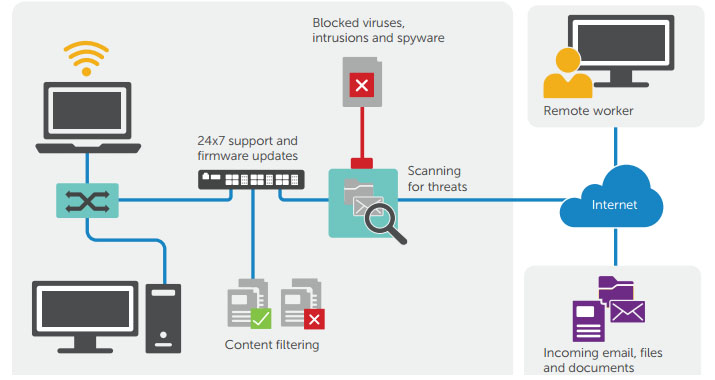 Network Security Products
TZ Series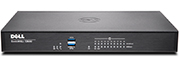 Stop security risks with the best Unified Threat Management (UTM) firewall for small businesses, retail deployments, distributed enterprises, remote sites and branch offices.
SonicPoint Series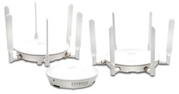 Combine high-performance 802.11ac wireless technology with award-winning, advanced firewall protection. Receive unparalleled wireless security, and drastically simplify network setup and management.
NSA Series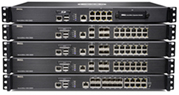 Applying the same security engine and services as our SuperMassive series, Dell Network Security Appliance (NSA) next-gen firewalls boost performance and reduce costs and complexity for distributed enterprises.
Super Massive 9000 Series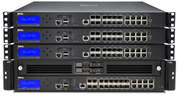 The Dell SuperMassive 9000 series ensures the security, performance and scalability demanded by today's larger enterprises with 10+ Gb infrastructures.
Super Massive E10000 Series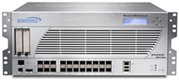 SuperMassive E10000 firewalls set the standard for high-performance application control and threat prevention.
WXA Series

Accelerate the effectiveness of your existing infrastructure, and improve the end-user experience. Reduce application latency, and conserve bandwidth for small to medium-sized organisations with remote and branch offices.
Comprehensive Gateway Security
Complete network security in a single integrated package.
Dellâ"¢ SonicWALLâ"¢ Comprehensive Security Suite (CGSS) removes the complexity associated with choosing a host of add-on security services by integrating all the network security service required for total protection into a convenient, affordable package.
A complete network security solution
ICSA-certified gateway anti-virus and anti-spyware protection
Cutting-edge IPS technology
Application intelligence and control
24×7 support with firmware updates and hardware replacement
Advanced Threat Protection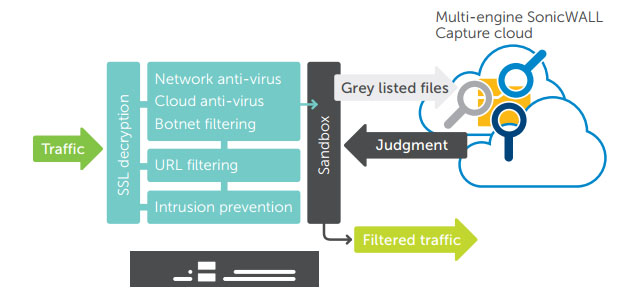 To protect customers against the increasing dangers of zero-day threats, Dell SonicWALL Capture Advanced Threat Protection Service — a cloud-based service available with Dell SonicWALL firewalls — detects and blocks suspected advanced threats at the gateway until a verdict is determined. This service is the only advanced-threat-detection offering that combines multi-layer sandboxing, including full system emulation and virtualisation techniques, to analyse suspicious code behavior.
Multi-engine advanced threat analysis
Broad file type analysis and no file size limitation
Rapid deployment of remediation signatures
Wireless Network Security

Secure, high-speed wireless solutions
We deliver enterprise-class wireless performance and security while dramatically simplifying network set up and management.
Secure, high-speed wireless networking
Extended signal performance and quality
Simplified integration and deployment
Centralised ongoing management
For more information call us today on (09) 951-0555