Make your business more efficient, agile, secure and dependable
Virtualisation is the process of creating a software-based (or virtual) representation of something rather than a physical one. Virtualisation can apply to applications, servers, storage and networks, and is the single most effective way to reduce IT expenses while boosting efficiency and agility for businesses of all sizes.
Virtualisation can increase IT agility, flexibility and scalability while creating significant cost savings. Workloads get deployed faster, performance and availability increases and operations become automated, resulting in IT that's simpler to manage and less costly to own and operate. Additional benefits include:
Reduce capital and operating costs
Minimise or eliminate downtime
Increase IT productivity, efficiency, agility and responsiveness
Provision applications and resources faster
Enable business continuity and disaster recovery
Simplify data centre management
How it works
IT organisations are challenged by the limitations of today's x86 servers, which are designed to run just one operating system and application at a time. As a result, even small data centers have to deploy many servers, each operating at just 5 to 15 percent of capacity — highly inefficient by any standard.
Virtualisation uses software to simulate the existence of hardware and create a virtual computer system. Doing this allows businesses to run more than one virtual system – and multiple operating systems and applications – on a single server. This can provide economies of scale and greater efficiency.
The Virtual Machine
A virtual computer system is known as a "virtual machine" (VM):  a tightly isolated software container with an operating system and application inside.  Each self-contained VM is completely independent. Putting multiple VMs on a single computer enables several operating systems and applications to run on just one physical server or "host".
A thin layer of software, called a hypervisor, decouples the virtual machines from the host and dynamically allocates computing resources to each virtual machine as needed.
Server Consolidation
Using server virtualisation, a company can maximise the use of its server resources and reduce the number of servers required. The result is server consolidation, which improves efficiency and cuts costs.
It's Not Cloud Computing
Cloud computing is not the same thing as virtualisation; rather, it's something you can do using virtualisation. Cloud computing describes the delivery of shared computing resources (software and/or data) on demand through the Internet. Whether or not you are in the cloud, you can start by virtualising your servers and then move to cloud computing for even more agility and increased self-service.
VMware vSphere
The industry-leading virtualisation platform
VMware vSphere , the industry-leading virtualisation platform, empowers users to virtualise any application with confidence, redefines availability and simplifies the virtual data centre. The result is a highly available, resilient and on-demand infrastructure that is the ideal foundation of any cloud environment. This can drive down data centre cost, increase system and application uptime, and drastically simplify the way IT runs the data centre.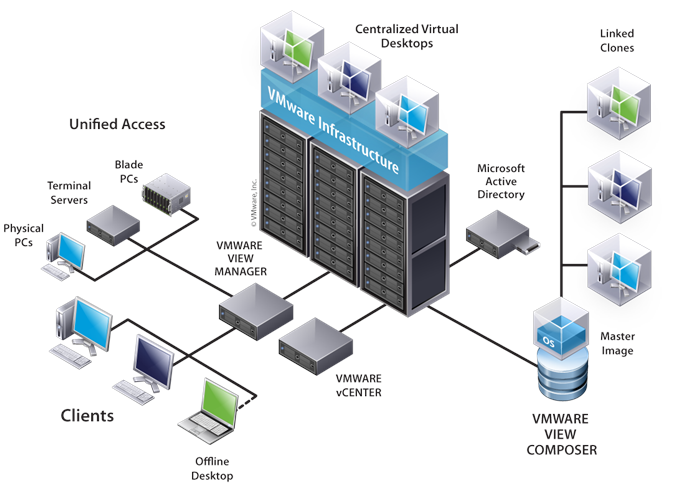 Efficiency through utilisation and automation
Achieve consolidation ratios of 15:1 or more and improve hardware utilisation from 5 to 15 percent to as much as 80 percent or more — without sacrificing performance.
Maximise uptime across your cloud infrastructure
Reduce unplanned downtime and eliminate planned downtime for server and storage maintenance.
Dramatically lower IT costs
Reduce capital expenditures by up to 70 percent and operational expenditures by up to 30 percent to achieve 20 to 30 percent lower IT infrastructure costs for each application running on vSphere.
Agility with control
Respond quickly to changing business needs without sacrificing security or control, and deliver zero-touch infrastructure with built-in availability, scalability and performance guarantees for all business-critical applications running on vSphere.
Freedom of choice
Use a common, standards-based platform to leverage existing IT assets alongside next-generation IT services, and enhance vSphere through open APIs with solutions from a global ecosystem of leading technology providers.
For more information call us today on (09) 951-0555