Office 365 goes where you go, on all your devices
Work anywhere, anytime, on any device. Office 365 is ready when you are.
Whether you're working in your office or on the go, you get a familiar, top-of-the-line set of productivity tools. Office applications let you create, edit and share from your PC/Mac, or your iOS, Android™ or Windows device with anyone, in real time.
When a new version of Microsoft Office is released, you'll get instant access to it so your applications are always up-to-date. And because Office 365 is optimised across your devices, it's easy to get "anywhere access" to your stuff on your laptop, phone, tablet and more.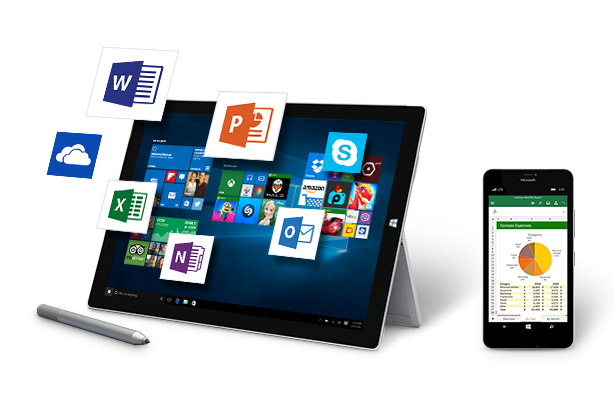 Features & Benefits
Seamless Co-ordination with the Tools You Already Know 
Office 365 works seamlessly with the programs you already know and use, including Outlook, Word, Excel, OneNote, Publisher and PowerPoint. These tools provide the same great features you rely on as well as powerful capabilities in Office 365. With multiple subscription levels in Microsoft Office 365, you can see if others are editing the document you're using, synchronise documents with your desktop, broadcast PowerPoint presentations, and check documents in and out of your online document library.
Anytime, Anywhere Access 
Microsoft® Office 365 provides web-enabled access to email, important documents, contacts and calendar on almost any device — including PCs, Macintosh computers, iPhones, Android phones, and BlackBerry smartphones. It frees you to work where and when you choose, letting you respond to important requests right away, from almost any location. With the ability to access email and documents from your mobile device, you don't need to hurry to the office or look for a WIFI hot spot. And if you're travelling without access to Microsoft Office, Office 365 helps you view and edit documents from the most popular web browsers on PCs and Macintosh computers. Take control of when and where you work with Office 365. 
Easily Communicate and Collaborate Inside and Outside Your Organisation  
With Office 365, you can create a password-protected portal to share large, hard-to-email files both inside and outside of your organisation, giving you a single location to find the latest versions of files or documents, no matter how many people are working on them. Send instant messages to colleagues and customers, and invite them to participate in online meetings where you can review documents or take control of a desktop. 
99.9% Financially-Backed Uptime Guarantee
Office 365 is built from the ground up for reliability, availability and performance. Our proven service is powered by the same Microsoft email and collaboration products that businesses of all sizes have been using for decades. Office 365 helps safeguard your critical data with geo-redundant, enterprise-grade reliability and disaster recovery with multiple data centres, automatic failovers and a strict privacy policy. Office 365 is designed to deliver reliability, availability and performance with a guaranteed 99.9% uptime, financially-backed service level agreement (SLA).
Flexibility for Your Business 
With Office 365, you get pay-as-you-go pricing options that give you predictability and flexibility for your business. Office 365 also offers great flexibility by allowing you to easily provide users with only the services they need, cost-effectively adding value to your business. 
For more information call us today on (09) 951-0555