Comprehensive endpoint protection without system slowdowns
ESET Endpoint Antivirus with award-winning ESET NOD32® technology delivers superior detection power for your business.
Its low system demands and virtualisation capability keep your system humming. Keep the security of offline devices under control, and customise scanning and update options as you see fit. Control it all effortlessly with our all-new, user-friendly remote administrator tool.
Proven ESET NOD32® Technology Working for You. With Exploit Blocker and Advanced Memory Scanner to neutralise sophisticated threats.
Superior Detection and Virtualisation Support. Eliminates all threat types and supports VMs.
Low System Demands. Leaves more system resources free while still delivering complete protection.
Remote Management. Fully manageable via the new ESET Remote Administrator web-console.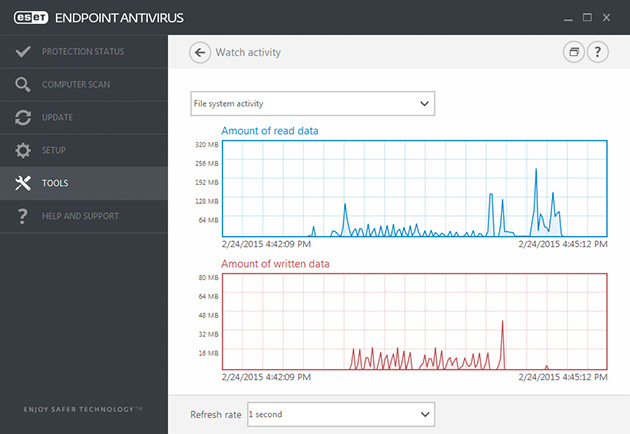 Features and Benefits
Anti-virus and Anti-spyware Protection
Eliminates all types of threats, including viruses, rootkits, worms and spyware with optional cloud-powered scanning for even better detection performance.
Anti-Phishing – Avoid Being Hooked
Our award-winning Anti-Phishing engine protects from attempts by fake websites to acquire sensitive company data, such as usernames, passwords or banking details.
Device Control – Keep Offline Devices Under Control
Ensure no unauthorised offline media are used within your network. Blocks unauthorised devices or allows different access levels.
Exploit Blocker – Prevents Targeted Attacks
New detection technology that strengthens protection against targeted attacks and previously unknown exploits – i.e. zero-day attacks.
Advanced Memory Scanner
Monitors the behavior of malicious processes and scans them once they decloak, allowing for effective infection prevention, even from heavily obfuscated malware.
Low System Demands – Keep Business Moving Along
ESET Endpoint Antivirus delivers proven protection while leaving more system resources for essential programs that end users depend on daily.
Mobile & Tablet Protection
Light-footprint endpoint security including anti-malware, anti-phishing and anti-theft
ESET Endpoint Security for Android
Light-footprint endpoint security including anti-malware, anti-phishing and anti-theft.
Remote Management – Lock/unlock, and even wipe missing devices remotely
Device Security – No need for a dedicated mobile device management (MDM) tool
Application Control – Monitor apps on the device, and block access to specific apps
Anti-Theft – Secure data on lost or stolen devices
Real-Time Protection – Shields all applications and files in real time with ESET NOD32® proactive technology, optimised for mobile platforms.
Anti-Phishing – Protects users from attempts to acquire passwords, banking data and other sensitive information by fake websites masked as legitimate ones.
ESET Mobile Device Management for Apple iOS
Push settings to your business iPhones and iPads, and secure them with anti-theft.
Anti-Theft – remotely wipe all the data stored on the device in case it goes missing (including emails, contacts)
Remotely push settings to iOS devices, including setting for the Exchange, Wi-Fi, and VPN accounts
Manage Passcode, iCloud, Privacy and Device settings and restrictions
Fully manageable via ESET Remote Administrator
For more information call us today on (09) 951-0555