Cross-platform anti-malware protection against shared-file and host-system infection.
ESET File Security for Microsoft Windows® Server provides superior protection for your company's data passing through the file server.
The solution utilises the proven ESET NOD32® scanning engine at its core and combines high detection speed, smooth performance, and stability to ensure a continuously high level of security. Maintain more memory and CPU power for critical system tasks thanks to the solution's minimal resource usage. Stay on top of server security with detailed and comprehensive security logs, vital protection status information and system notifications.
Proven ESET NOD32® Technology Working for You. With Exploit Blocker and Advanced Memory Scanner to neutralise sophisticated threats.
Meets the Needs of Complex Network Infrastructure. Optimised for virtual environments, with native clustering support and storage scan.
Low System Demands. Leaves more system resources free while still delivering complete protection.
Remote Management. Fully manageable via the new ESET Remote Administrator web-console.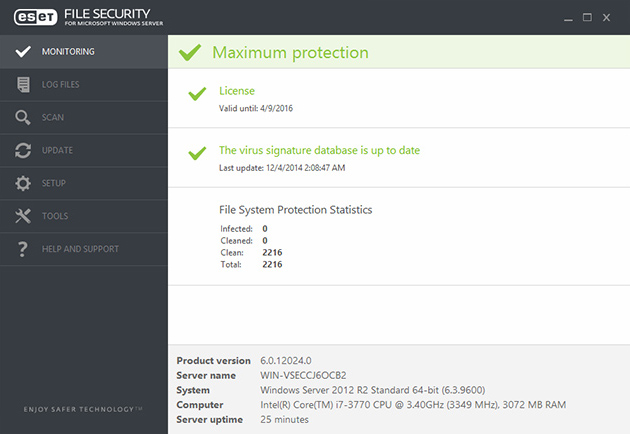 Features and Benefits
Anti-virus and Anti-spyware Protection
Eliminates all types of threats, including viruses, rootkits, worms and spyware with optional cloud-powered scanning for even better performance and detection.
Advanced Memory Scanner
Monitors the behavior of malicious processes and scans them once they decloak, allowing for effective infection prevention, even from heavily obfuscated malware.
Exploit Blocker – Fighting Targeted Attacks
New detection technology that strengthens protection against targeted attacks and previously unknown exploits – i.e. zero-day attacks.
Specialised Cleaners
Provides most relevant critical malware standalone cleaners within the product interface for malware which cannot be removed by the regular cleaner.
Low System Demands
Delivers proven protection while leaving more system resources for essential programs that end users depend on daily.
Storage Scan
Easily set up on-demand scans of connected Network Attached Storage (NAS). Used with ESET Shared Local Cache, can hugely reduce disk input/output operations.
For more information call us today on (09) 951-0555