Safeguard your email with advanced protection against malware and spam.
ESET Mail Security for Microsoft Exchange Server integrates powerful anti-virus and anti-spam detection capabilities that ensure all harmful email-borne content is filtered away at the server level, while ESET's light footprint means your system can continue to run at full speed.
With our solution, you get complete server protection – including the server's own file system. You can apply policies for specific content based on real file type, and monitor security status or fine-tune configuration easily via our user-friendly ESET Remote Administrator tool.
Anti-virus & Anti-spam eliminates all types of threats, including viruses, rootkits, worms and spyware and stops spam and phishing attempts with high interception rates.
Local Quarantine of spam and undelivered messages accessible and manageable by mailbox owner via a standalone browser.
Meets the needs of complex network infrastructure. Optimised for virtual environments, with snapshot independence and native clustering support.
Remote Management. Fully manageable via the new ESET Remote Administrator web-console.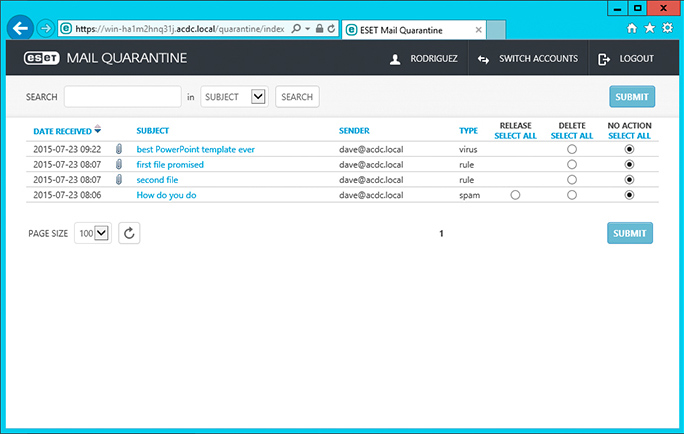 Features and Benefits
Anti-spam and Anti-Phishing
Stops spam and phishing attempts, with high interception rates. Ready to run after installation without further configuration.
Anti-virus and Anti-spyware
Eliminates all types of threats, including viruses, rootkits, worms and spyware with optional cloud-powered scanning for even better detection performance.
Local Quarantine Management
Mailbox owners can directly interact, via a standalone browser, with quarantined spam or suspected-malware messages. Users can sort these messages, search among them, execute allowed actions, and receive regular email reports.
Message Processing Rules
Offers a wide range of combinations for handling every message, using standard and advanced parameters including previous anti-spam filtering or anti-virus scanner results.
Device Control
Ensure no unauthorised offline media are used within your network. Blocks unauthorised devices, or allows different access levels.
Database On-Demand Scan
Administrators can choose which databases and mailboxes will be scanned. Smart scanning allows server resources to be conserved.
For more information call us today on (09) 951-0555